Volition—the development studio behind franchises from Descent and Freespace to Red Faction and Saints Row—has been abruptly shut down after a 30-year run. Parent company Embracer Group said the studio will be closed "effective immediately" as part of a massive restructuring program that began in June, according to a farewell notice posted on Volition's website and on LinkedIn.
"The Volition team has proudly created world-class entertainment for fans around the globe for 30 years," the statement reads, in part. "We've been driven by a passion for our community and always worked to deliver joy, surprise and delight."
Some of Volition's more than 200 employees are sharing news of their layoffs. But it's unclear just how many of the studio's more than 200 employees are now out of a job and how many will be transitioned to other parts of Embracer's gaming behemoth, which includes Gearbox Entertainment, THQ Nordic, Eidos Interactive, and many more studios.
Volition's fate is the latest apparent knock-on effect of a planned $2 billion investment in Embracer that fell through back in May. Earlier this month, Axios Gaming reported that the Saudi government-funded Savvy Games Group (SGG) was the party that pulled out of that funding deal. After that deal fell apart, Embracer warned that it would be forced to undergo a major restructuring program that would impact an unforeseen number of the company's then-17,000 employees through March 2024.
Embracer had previously accepted $1 billion in funding from Savvy last year, a move that Embracer CEO Lars Wingefors spent hundreds of words defending in an open letter at the time. "Embracer is built on the principles of freedom, inclusion, humanity and openness," he wrote. "The transaction with SGG will not change this in any way."
The Volition shutdown also comes about a year after the company's latest Saints Row reboot launched to underwhelming review scores and apparently underwhelming sales performance. "Would it have as great a return of investment as we've seen in many other games? Not very likely," Wingefors said during last year's Annual General Meeting. But we will make money, and that's a very good starting point.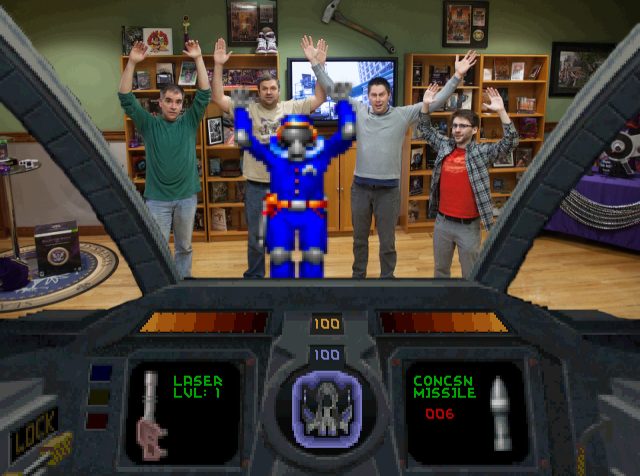 Started in 1993 under the name Parallax Software, the studio that would later become Volition first made a name for itself with Descent, a 3D space shooter that innovated by allowing free movement in all directions. The company was acquired by THQ in 2000, which oversaw the publishing of the destruction-based Red Faction FPS franchise and the start of gonzo crime simulator Saints Row.
When THQ dissolved in 2013, Volition was purchased by Koch Media's Deep Silver publishing arm, which was itself acquired by a quickly growing Embracer in 2018. The studio was transferred to be part of Gearbox Entertainment last year after the disappointing results for Saints Row. The Saints Row and Red Faction franchises will remain as part of Embracer's Plaion division, according to a statement provided to PC Gamer.