As I watched a few berries I had just carted home roll gently down my driveway and into the road, it was hard to escape the sense that my plan to use nothing but a cargo bike for two weeks might have been overly ambitious. Several weeks filled with Canadian wildfire smoke and tornado warnings later, it was pretty clear that I had greatly underestimated the complexities involved.
The e-bike I used for my testing, the newly introduced Trek Fetch+ 2, is very good, and it readily hauled whatever I asked of it. But using a cargo bike is very different from any other biking experience I've had—and that's saying something, given the large range of bike styles I've now had the pleasure of sampling.
So this review will be divided into two parts. In the first, I'll talk a bit about the cargo bike experience; if you already know what that's like, you can skip ahead to the second half, where we'll go in-depth on the Fetch+ 2.
Hauling cargo
While we've looked at a very competent electric cargo bike before, that review was focused on the bike itself; it didn't say much about the cargo bike experience. But that experience is distinct. More than anything I've ridden so far, a cargo bike is a specialized piece of equipment. It's easy to take a mountain bike on roads or roll a folding bike down some gravel, and it will likely be a pretty good experience. But a cargo bike isn't amazing at anything other than what it was designed for.
That's because cargo bikes tend to be long—long enough to fit both the rider and a cargo area. And the wheels have to be on opposite ends of this length: one free of everything else in front so it can be turned to steer and a second placed where it will support much of the weight being hauled (either the rider or cargo).
An obvious consequence is that the handling isn't great—not dangerously bad, but not as responsive or enjoyable as you'd expect from a bicycle. But there are less obvious consequences as well. To handle that large separation between the wheels without the sort of flexing that would lead to fatigue and failure, the frame has to be pretty rigid. As a result, you really feel any bumps you hit. This was especially obvious for me, as I've been riding several suspension bikes this summer. But it was even apparent in comparison with my road bike, which is not noted for being especially flexible.
The cargo capacity also means that the bike is relatively wide. Although the cargo area probably doesn't extend past the handlebars, it's very strange riding a bike that needs equal clearance along its entire length, and I found I was always extremely conscious of that limitation.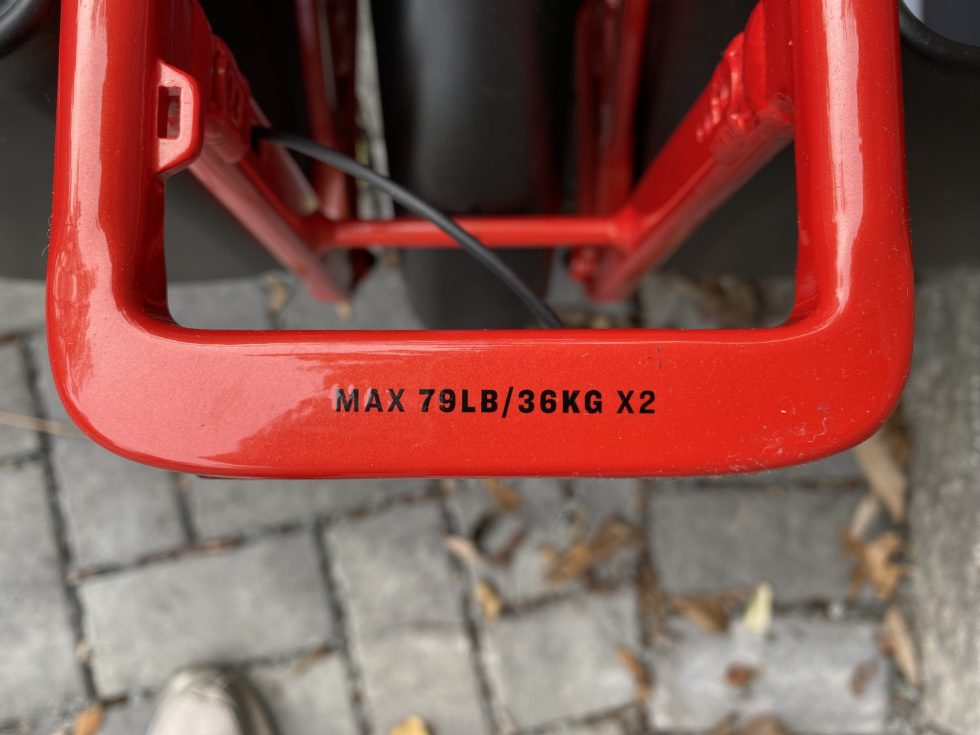 Put all that together and you end up with a bike I wouldn't want to use for a ride unless I absolutely needed its cargo-carrying capacity. In fact, if all you need is a couple of items, it's probably better to throw on a backpack and take a regular bike to the store. A cargo bike is the first hardware I've tested that really only makes sense as a second bike.