Last September, the Internet was abuzz for weeks about a chess cheating controversy that erupted during the third round of the Sinquefield Cup. The reigning chess world champion, Magnus Carlsen, lost to a 19-year-old upstart named Hans Niemann in what was widely considered a shocking upset. Carlsen withdrew from the tournament the next day—an incident considered "virtually unprecedented' at such a high level of chess—and his cryptic comments on Twitter fueled rampant speculation that Niemann had cheated.
Things snowballed from there, with a full investigation and a $100 million lawsuit filed by Niemann in October. A judge dismissed the lawsuit in June. Now, Niemann and Chess.com have finally "resolved their differences" and settled the matter. Niemann can now return to Chess.com and is eligible to play in any event. All the parties involved are free to voice their opinions about the controversy.
The Carlsen/Niemann dustup is considered the most serious chess cheating scandal since the 2006 World Chess Championship, dubbed "Toiletgate" because Veselin Topalov accused his opponent, Vladimir Kramnik, of going to the bathroom too often. (Topalov thought Kramnik was getting computer assistance during the match via these bathroom breaks, later insisting that network cables had been found in the bathroom ceiling.) Anti-cheating measures have since been upgraded for future chess events in response. Those measures include nonlinear junction detectors to detect electronics, an RF machine to detect infrared signals, confiscating electronics from spectators, a 30-minute broadcast delay for US chess championships, and even retaining a medical doctor to inspect players' ears for hidden transmitters.
The fact that Niemann admitted to cheating a few times in online chess matches when he was 12 and 15 didn't help his case, but he steadfastly insisted he never cheated in over-the-board games. Chess.com removed Niemann from their platform following the Sinquefield Cup. Three weeks after withdrawing, Carlsen released a statement explaining his decision, saying he believed Niemann had cheated more often (and more recently) than Niemann had admitted and that he didn't want to play Niemann.
Opinions among others in the chess community were divided as the controversy fueled rampant speculation. For instance, former world champion Anatoly Karpov said that Carlsen had a bad opening and couldn't cope with the consequences, calling the claims of cheating "complete nonsense." Others, including former world champion Garry Kasparov, criticized Carlsen for making accusations of cheating without evidence. Grandmaster Hikaru Nakamura supported Carlsen, claiming that Niemann had previously been banned from Chess.com for cheating in online games.
The fierce debate even produced a bizarre viral conspiracy theory that Niemann had used anal beads to receive coded messages during the match—a charge the grandmaster vehemently denied, even volunteering to play chess naked to prove his innocence. ("The theory is too irresistible to ignore," Ethan Gach wrote at Kotaku last fall. "It's bonkers, but just on the cusp of feasibility.")
That, in turn, inspired a colorful experiment to test the hypothesis. As we reported last year, the folks at Adafruit Industries built a prototype device called Cheekmate, which they tested on a big slab of pork butt. The results: Cheekmate proved surprisingly easy to build and code, with no need for advanced engineering skills—just simple soldering. You do need to know Morse code, however. The Wi-Fi signals had no problem transmitting messages. On the con side, Cheekmate's vibrations are far too loud to escape detection, even when surrounded by pounds of pork. The Adafruit team concluded that "such an idea is plausible but unlikely."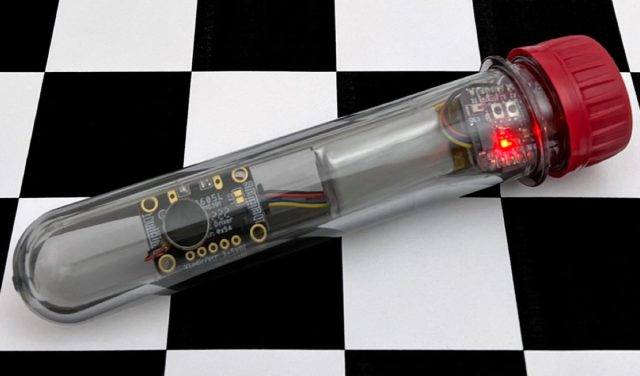 A 72-page report released by Chess.com last October found that Niemann had cheated online far more frequently than he admitted—in over 100 games as recently as August 2020—but found no concrete statistical evidence that he had cheated in his game against Carlsen or any other over-the-board games. Chess.com also noted evidence of many other grandmasters cheating in online games, redacting the names of 24.
Niemann responded with a federal lawsuit alleging a "malicious conspiracy" between Chess.com and its Chief Chess Officer Daniel Rensch, Carlsen and his company (Play Magnus Group), and Nakamura to defame and "unlawfully collude" against Niemann. He asked for $100 million in damages, citing canceled upcoming matches after the allegations. With that lawsuit dismissed, the main parties involved have set aside their differences and resolved to move forward.
Here is the full statement from Chess.com:
We are pleased to report that we have reached an agreement with Hans Niemann to put our differences behind us and move forward together without further litigation. At this time, Hans has been fully reinstated to Chess.com, and we look forward to his participation in our events. We would also like to reaffirm that we stand by the findings in our October 2022 public report regarding Hans, including that we found no determinative evidence that he has cheated in any in-person games. We all love chess and appreciate all of the passionate fans and community members who allow us to do what we do.
"I am pleased that my lawsuit against Magnus Carlsen and Chess.com has been resolved in a mutually acceptable manner, and that I am returning to Chess.com," Niemann said in a statement. "I look forward to competing against Magnus in chess rather than in court and am grateful to my attorneys at Oved & Oved for believing in me and helping me resolve the case."
"I acknowledge and understand Chess.com's report, including its statement that there is no determinative evidence that Niemann cheated in his game against me at the Sinquefield Cup," Carlsen said in his statement. "I am willing to play Niemann in future events, should we be paired together."