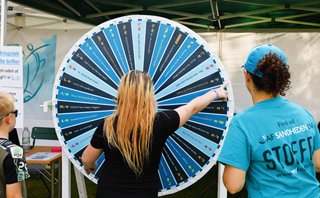 Volunteers from the Church of Scientology in Copenhagen brought their drug education "roulette wheel" to a local health fair to illustrate that you're gambling with your life when you take drugs.
Volunteers with the Copenhagen chapter of Foundation for a Drug-Free World brought their "Say No to Drugs—Say Yes to Life" initiative to a local festival to reach out to the community with factual data on drugs and raise awareness of the dangers of drug abuse.
An alarming trend among children ages 14 to 17 is emerging in Denmark—use of and addiction to opioids.
"The youngsters' dependency on the opioid pills is so great that some confess to being unable to get out of bed and go to school without them," reported the Copenhagen Post earlier this year. And when asked about the prevalence of this trend, they answered "everyone knows about it, everyone can get them."
The volunteers invited those attending to spin a roulette wheel to raise donations for the charity sponsoring the festival. But they also pointed out that taking drugs is like playing roulette with your life because of the harmful effects one risks from taking the most commonly abused drugs.
The volunteers aim to reach youth with the truth about drugs before they begin to experiment with these substances.
Say No to Drugs—Say Yes to Life uses the youth-friendly drug education and prevention materials of Foundation for a Drug-Free World, a volunteer-based organization with a network of some 200 chapters around the world. Thanks to the support of the Church of Scientology and Scientologists, the Foundation provides the Truth About Drugs secular program and materials free of charge. The Foundation has a free online interactive course in 20 languages including Danish that covers basic facts about drugs and includes interviews with former addicts who battled with the effects of these substances and lived to tell their story. 
Scientology Founder L. Ron Hubbard noted the role substance abuse plays in the disintegration of the social fabric. He wrote: "Research has demonstrated that the single most destructive element present in our current culture is drugs."
The Church of Scientology Denmark in Copenhagen is an Ideal Scientology Organization, dedicated in 2017 by Scientology ecclesiastical leader Mr. David Miscavige. The Church and its outreach activities in the community are featured in an episode of Destination: Scientology on the Scientology Network, which also documents the work of drug prevention activists using Foundation for a Drug-Free World materials in countries across the globe in episodes of Voices for Humanity.
The Scientology Network has been viewed in over 240 countries and territories in 17 languages, satisfying the curiosity of people about the Scientology religion and Founder L. Ron Hubbard. The Scientology Network is available on DIRECTV Channel 320, DIRECTV STREAM, AT&T U-verse and can be streamed at Scientology.tv, on mobile apps and via the Roku, Amazon Fire and Apple TV platforms.