This article is sponsored by Pri-Med, a leader in primary care education since 1995. Pri-Med partners with expert advisors, renowned clinician-educators, and world-class academics to provide conferences, content, and courses—whenever and wherever medical professionals need it.
With the ever-evolving landscape of primary care, it's crucial for clinicians to stay up to date with the latest guidelines and clinical insights. It's also important to seek out a trusted provider of high-quality, unbiased medical education to curate and synthesize information.
This is where Pri-Med shines as a provider of accessible and comprehensive conferences, content, and courses, offering a monthly live virtual conference, PrimaryCareNOW. Here are five reasons to attend this virtual conference—for free—this fall:
1. Specialized courses
PrimaryCareNOW stands out by offering a wide range of courses that provide specialized education on important primary care topics. These courses delve deep into each topic and are led by experts in their field. Clinicians can expand their knowledge and expertise in areas such as:
Cardiology
Dermatology
Geriatrics
Guideline updates
Endocrinology
Health equity
Infectious disease
Mental health
Nephrology
Nutrition
Neurology
Obesity
Pain management
Women's health
2. Expert faculty
A hallmark of PrimaryCareNOW is the presence of renowned expert faculty members who bring valuable insights and extensive experience to each virtual conference. These faculty members are leaders in their respective fields, and many are faculty at prominent medical schools around the country. Through interactive sessions and Q&A opportunities, clinicians have the chance to engage with these experts directly, gaining valuable insights and clarifying any questions they may have.
Upcoming faculty highlights: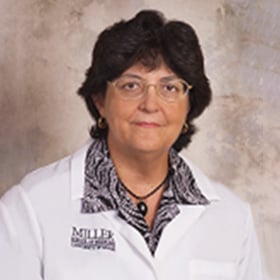 Panagiota Caralis, MD, JD, FACP
Dr. Panagiota Caralis is a triple graduate of the University of Miami, earning her BS, MD, and JD degrees there. She is the Integrated Ethics Program Officer for the Miami VHS and Women Veterans Health Medical Director. She is the director of the Health Law pathway at the University of Miami Medical School, which integrates education in health and law for medical students, residents, and fellows. She oversees a medical-legal clinic that provides pro bono legal services for veterans.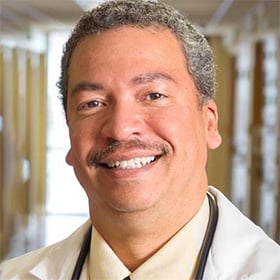 Gregory L. Hall, MD
Dr. Greg Hall is a Cleveland Clinic-trained internal medicine specialist currently serving as the medical director of the University Hospital Cutler Center for Men. Dr. Hall is an associate professor in both the Internal Medicine and Integrative Medical Sciences departments at Northeast Ohio Medical University. Dr. Hall's PrimaryCareNOW courses are titled, Bridging the Gap with Dr. Hall, and focus on health equity and men's health.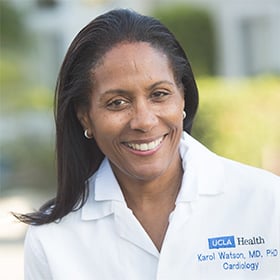 Karol E. Watson, MD, PhD
Dr. Karol Watson is a board-certified, full-time cardiologist at the Geffen School of Medicine at UCLA and an alumna of Stanford University and Harvard Medical School. Currently, Dr. Watson is the director of the UCLA Barbra Streisand Women's Heart Health Program, co-director of the UCLA Program in Preventative Cardiology, and director of the UCLA Fellowship Program in Cardiovascular Diseases.
3. State-mandated courses
State licensure requirements can often be a challenge for clinicians to fulfill. PrimaryCareNOW offers state-mandated courses that help attendees meet their specific state CME/CE requirements with ease. Nearly all states have a requirement for addiction, controlled substances, pain management or opioid prescribing, as well as the requirement for all DEA prescribers to accrue eight hours of pain management training, also known as the MATE ACT. The following 3.50 credit course will be offered in October as part of the PrimaryCareNOW curriculum and is designed to meet the requirements of most states:
Strategies for Effective Pain Management in Clinical Practice (3.5 hours)
Credits: 3.50 AMA PRA Category 1 Credits™ and 3.50 ABIM Medical Knowledge and Patient Safety MOC Points, or 3.50 Certificate of Attendance
Faculty: Charles E. Argoff, MD, FABPM; Oscar A. de Leon-Casasola, MD; and Katherine E. Galluzzi, DO, CMD, FACOFP
4. Attend when it's convenient for you
One of the key advantages of a virtual conference like PrimaryCareNOW is the flexibility it offers. Clinicians can attend sessions and complete courses at their own pace and on their own timeline—on their preferred device. This flexibility caters to the unpredictable schedules and demands of busy health care professionals. Whether attending live-streamed sessions or accessing recorded content, clinicians have the freedom to tailor their learning experience to fit their individual needs.
5. Long-lasting impact
Attending PrimaryCareNOW has a long-lasting impact on clinicians' knowledge and skills in primary care. The comprehensive curriculum, expert faculty, and interactive nature of the conference combine to provide an immersive and engaging learning experience. Clinicians gain valuable insights, stay updated with the latest developments in their field, and acquire practical skills that they can apply directly to their clinical practice. The knowledge gained from PrimaryCareNOW continues to benefit clinicians long after the conference concludes, enhancing their ability to provide high-quality patient care.
PrimaryCareNOW offers a range of benefits that make it an enticing opportunity for primary care clinicians this fall. From specialized courses to expert faculty and, state-mandated courses to flexible scheduling, as well as a long-lasting impact on knowledge and skills, attending PrimaryCareNOW ensures clinicians stay at the forefront of their field.
Are you interested in more CME/CE from Pri-Med? Create your free account now, which takes less than two minutes, to gain access to 500+ courses across 1,000 topic areas.
Join your clinician colleagues for PrimaryCareNOW: A Pri-Med Virtual Conference this fall.
Upcoming dates:
Tuesday−Wednesday, September 12–13
Wednesday−Thursday, October 25–26
Wednesday−Thursday, November 15–16
Wednesday−Thursday, December 13–14